Equipment rental
Equipment is a very important part of a conference with simultaneous interpretation. High quality equipment is required in order to provide an impeccable service.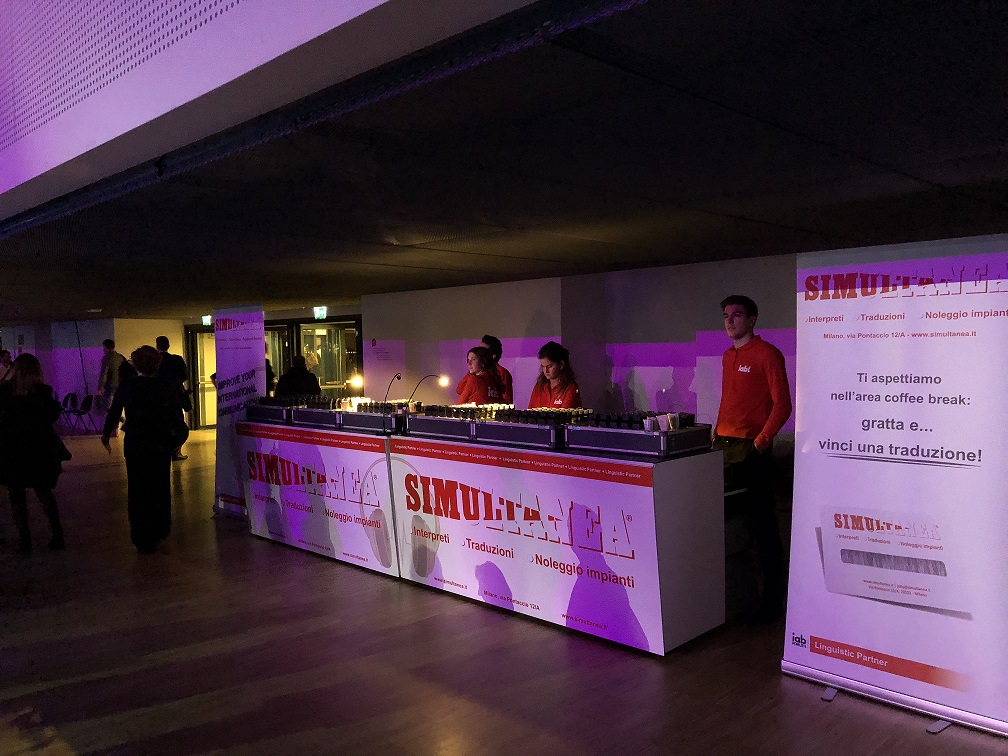 Simultanea was the Linguistic Partner for the simultaneous translation of the Institutional Conferences at IAB FORUM 2018
---
Why is top quality equipment important?
The speakers' audio has to perfectly reach the interpreting booth, where the interpreters listen via headphones and simultaneously translate the speech into a microphone.
The simultaneous translation is transmitted to the headsets worn by the participants. This requires special equipment – wired and wireless microphones (handheld, headset, lavalier, etc.), loudspeakers, soundproof booths, receivers, radiators, infrared transmission, etc. – as well as a professional qualified technician in attendance for the duration of the conference to ensure that the equipment works correctly, without interruptions, unwanted noises or interference with any other electronic equipment.
Booths & latest generation equipment for simultaneous translation
The "classic" and most reliable BOSCH infrared simultaneous interpreting equipment, with two-seater booth, in compliance with ISO 4043 standard.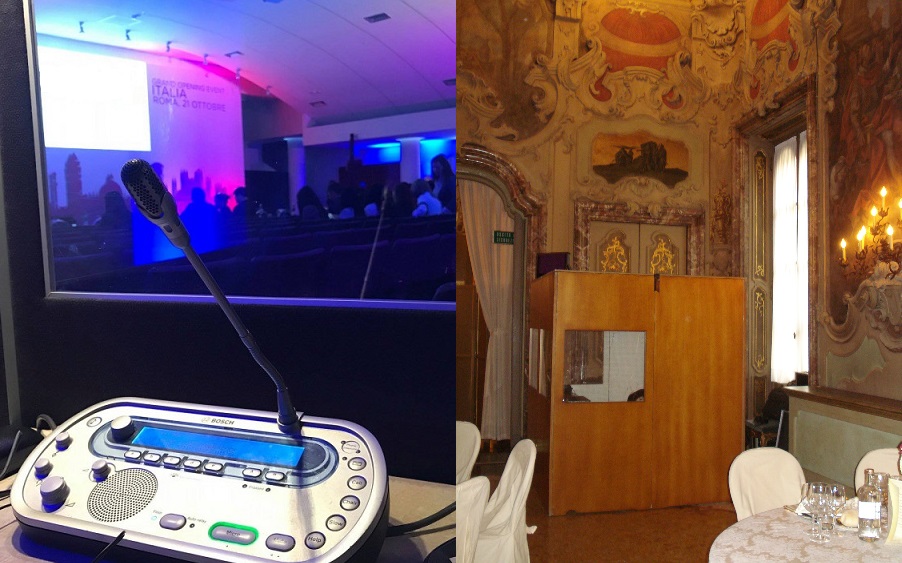 Simultaneous translation booths: Hotel Eurostars Roma Aeterna (Rome) and Circolo della Stampa (Milan)
Bosch Integrus System, - Technical Specifications
Please refer to the Bosch Integus Manual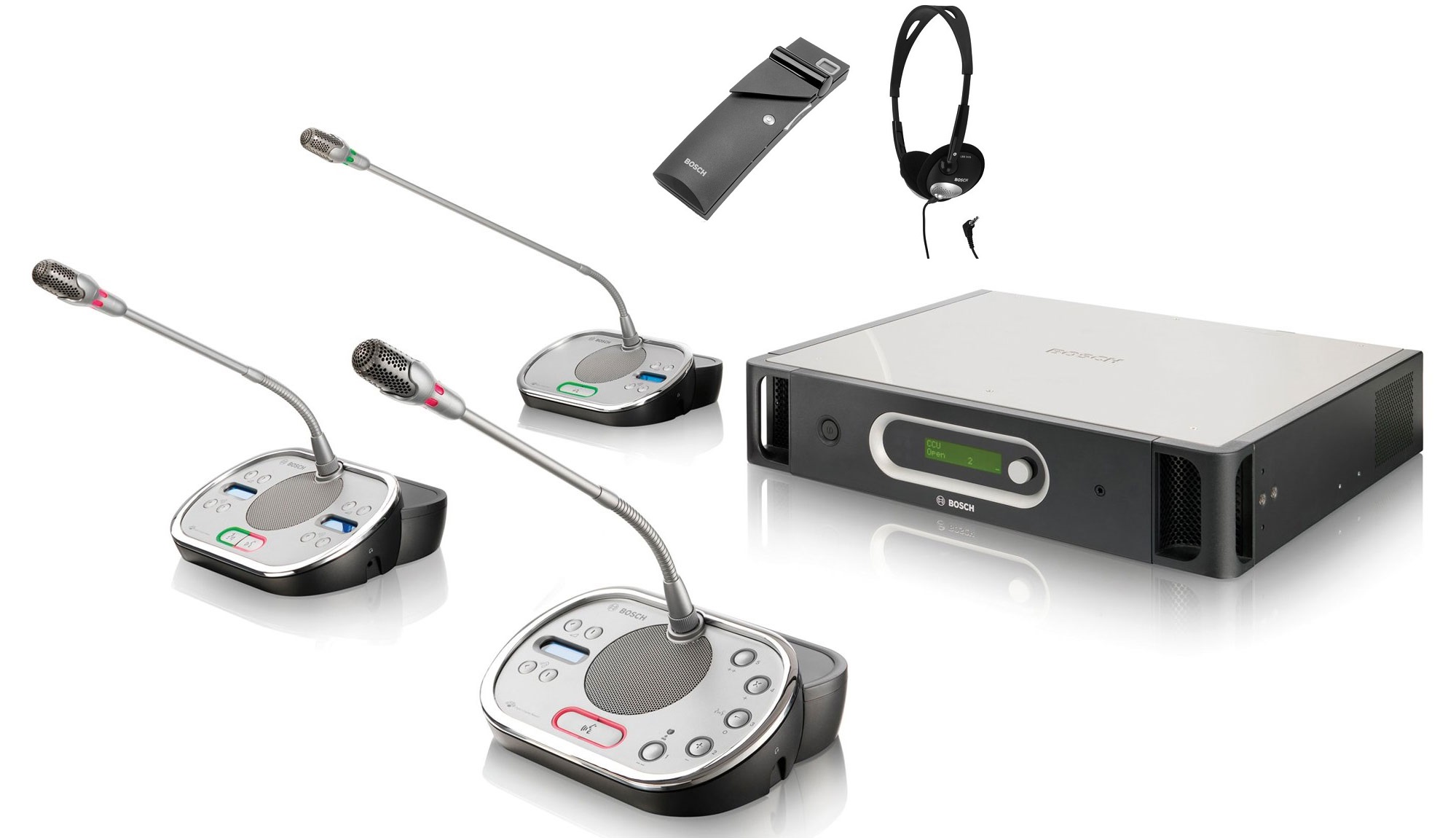 Portable simultaneous translation system
Ideal for small groups or plant tours requiring live translation
The portable live translation system, also known as bidule or tour guide, can be an alternative option to the "classic" digital simultaneous interpreting equipment with booth. We recommend the wireless portable system if the meeting room is small and has good acoustics.
Ready-to-be used
The bidule kit is made up of a transmitter- microphone and N number of receivers, which can be placed in a storage/charging suitcase (13x25x60cm). To use them, just turn the receivers on and distribute them to the listeners. Since there is no booth to be set up, the professional technician is not required (unless the portable system has to be connected to the location's PA system).
Autonomous and practical
It happens sometimes that some foreign visitors or prospects come to your factory, often with short notice. So what could be better than a tour of the factory/plant, showing them the production lines? The portable system is the ideal solution while walking: it lets you move through the different areas of the factory/showroom while giving your guests detailed explanations.
Practical and easy to use, the portable system is generally a suitable option in specific situations (i.e. small meetings - meeting of a Board of Directors - training courses and factory guided tours), but it also entails some limitations:
the space where the interpreters work is not sound-proof (any chatter or noise in the room, given the lack of a booth, may hamper the interpreters' performance and cause them stress, possibly affecting the quality of the translation delivered;
limited number of receivers.
The portable simultaneous translation system consists of the interpreter's microphone-transmitter and a certain number of receivers and headphones, which are distributed to the attendees. Hence, unlike the "classic" simultaneous translation equipment, here the microphone also serves as a transmitter, thus limiting the number of receivers that can be reached by the audio signal; that's why this portable system is recommended for small events, with a maximum of 30 (and, in any case, less than 50) participants that should stand/be seated in the same area, within c.a. 30 m from the microphone-transmitter.
Possible interference
The portable simultaneous translation system uses radio waves, so some interference may occur, usually due to magnetic fields and/or band saturation, even though, given their limited range, the receivers generally work quite well indoors.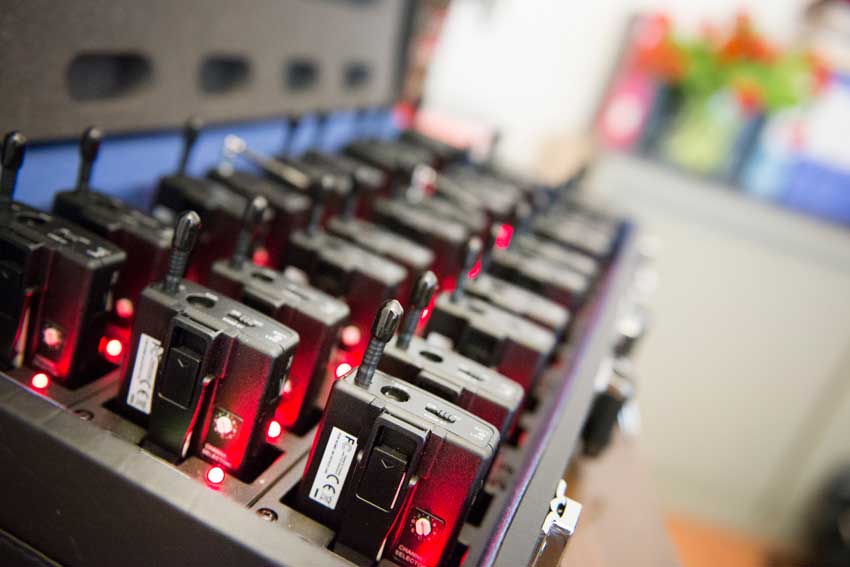 UHF bidule receivers for simultaneous interpreting
Video Streaming
We provide made-to-measure services for streaming audio-visual content live or on-demand for PCs or mobile systems. Video can be displayed in various formats, including HTML5, Mobile, Flash, Silverlight, Smooth Streaming, HTTP Adaptive, QuickTime and Windows Media. Transmission quality is guaranteed by an optimised CDN for global distribution. As well as transmission, we offer a podcasting system and interactive services (videochat, presentations with synchronised slides, images and text and DRM solutions for protecting content.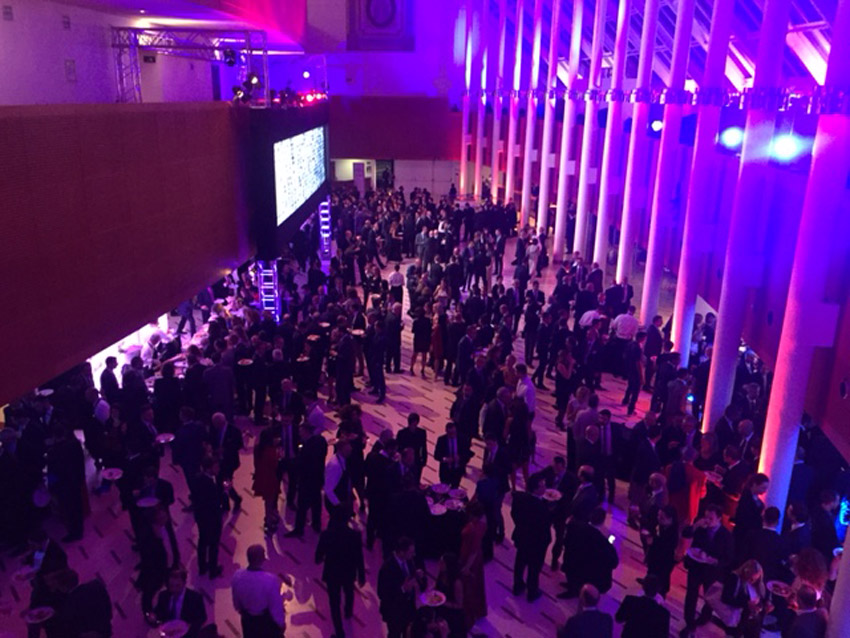 Teatro degli Arcimboldi (Milan)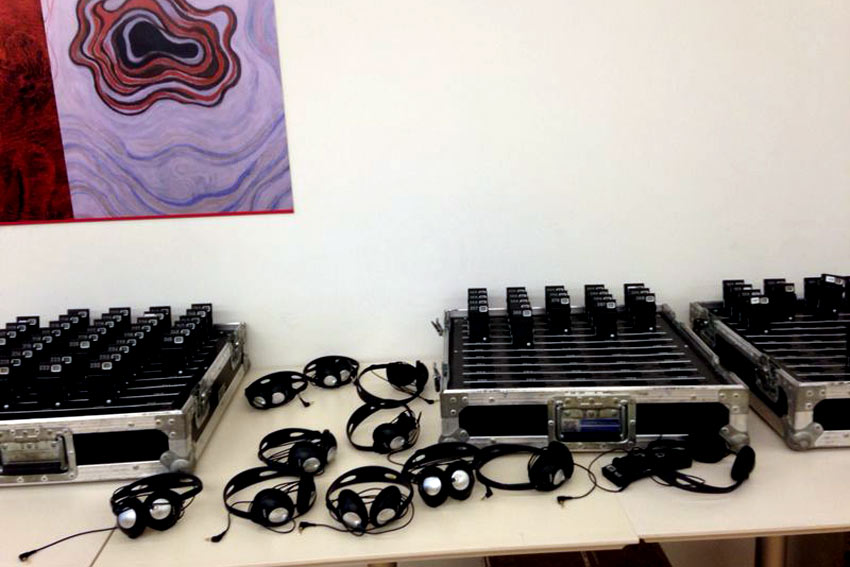 Palazzo Reale, Milano, receivers and headphones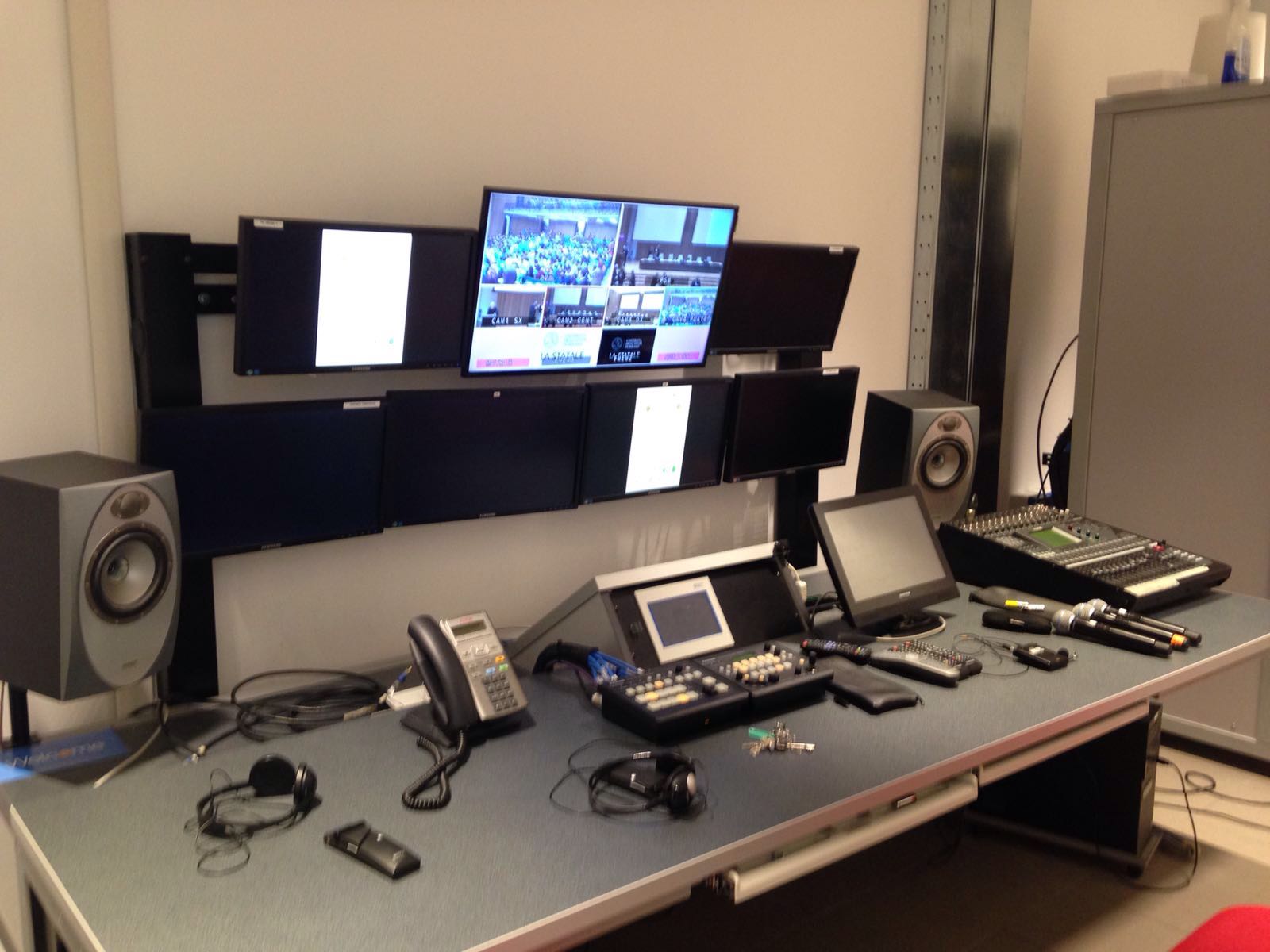 AV and simultaneous interpreting control booth
Wi-Fi Solutions
No internet connection? We provide internet connectivity even where there is no hard-wired connection. We provide temporary Wi-Fi networks, especially suited to video, voice and internet access at meetings, conferences, festivals, trade fairs and other events, indoor and outdoor. Networks can be accessed by a simple login process or via a captive portal.
HD Production
We can provide streaming and mobile production technology with plug-and-play installation for transmitting events over the internet, on any fixed or mobile system.
We also have broadcasting equipment, for use with any mode of land, sea or air transport. The ENG team use HD format, and production is carried out by professionals with solid technical and creative experience in producing live web/TV events.
We use personalised streaming technology platforms to broadcast all kinds of web events, allowing clients to interact with their interlocutors. Attendees can not only follow the event in the various languages, they can also actively take part, asking and answering questions in real time, taking part in live surveys, and viewing slides, documents and text relating to a particular event while it is taking place.
Web, Voice and Video over IP
We use dedicated satellite band teleport hub systems to create all kinds of networks for connection throughout Europe. This enables us to improve corporate network management and to provide guaranteed internet access, expanding the network to make data available at all times. On request we can also provide internet access systems in areas without broadband, in maritime locations, links to foreign locations, and DR services (technology, logistics and organisational solutions for systems, data and infrastructure recovery and emergency management in order to ensure events are always a success).
Live Webcasting
This service broadcasts content live and can manage events of any kind and scope. It includes management of the initial filming right up to delivery to the end user. It is also possible to select users to whom content can be made available, if not for public distribution.
Post-production
The post-production service can take a video and add coding according to requirements. It can also divide videos into chapters and add headings.
Live tweeting and other social networks post-production
This service can integrate the live player with chat rooms and real-time surveys on Facebook and Twitter.
Audio Equipment
Audio recording onto cassettes linked to our simultaneous or amplifier system. MP3 audio recording. Wireless hand-held or clip microphone. Wireless headset microphone. Swan-neck podium. Conference system microphones for each group of 8, complete with power cables. Amplification system with 3 wired microphones, 2 speakers, mixer and amplifier. Up to 100 people (BOSE/SONY). Amplification system with 3 wired microphones, 4 speakers, mixer and amplifier. Up to 300 people. CD player. CD player/recorder. Audio distributor 50W monitor speakers. 200W amplified speaker. Conference Call hybrid analogue telephone system. Podium with incorporated 15" TFT monitor. Swan-neck podium microphone. For specific amplification systems, extra-large venues or difficult acoustics, a quote can be prepared subject to a survey of the venue.
Screens
Map-type projection screen with tripod (180x180 cm). Map-type projection screen with tripod (240x240 cm). 200x200 cm self-supporting screen. 240x180 cm self-supporting screen. 290x210 cm self-supporting screen. 300x300 cm self-supporting screen. 300x400 cm self-supporting screen. 360x260 cm self-supporting screen. 500x400 cm self-supporting screen.
Flipcharts
Flip charts - paper sheets fixed to a whiteboard.
Video Equipment
SANYO Video projector - Brightness 15,000 ANSI lumens. SANYO Video projector - Brightness 10,000 ANSI lumens. Epson Video projector - Brightness 7,000 ANSI lumens. EPSON Video projector - Brightness 5,200 ANSI lumens. EIKI Video projector - Brightness 4,000 ANSI lumens. Epson Video projector - Brightness 2,000 ANSI lumens.
Sony DXCD35PK professional digital video camera with dolly and studio version accessories. Double camera set-up complete with: - 2 digital cameras, tripod with Bowden cables for manual control, viewfinder, optics, video mixer, 3 control monitors, 2 CCUs, AV distributor, intercom, control instruments and 8x8 video matrix. Triple camera set-up complete with: - 3 digital cameras, tripod with Bowden cables for manual control, viewfinder, optics, video mixer, 4 control monitors, 3 CCUs, AV distributor, intercom, control instruments and 8x8 video matrix. Sony DP 150 digital video camera complete with tripod, battery and power cable. Wireless microphone for video camera. BETACAM Sony video recorder. VHS multi-standard video recorder. DVCAM DVD player.
DVCAM tapes 184 min
Codec videoconference equipment.
Video Equipment
42" plasma monitor 16:9 format 1024x768 native resolution. 50" plasma monitor 16:9 format 1024x768 native resolution. Support for 42" and 50" plasma monitor. 15" TFT Monitor. 18" TFT Monitor; 50" 4:3 format rear-projection monitor. VISUAL PRESENTER Electronic Whiteboard. Analog Way - Graphic Switcher 8 VGA - 8 VIDEO - 2 SVIDEO – PIP. Kramer – Graphic Switcher 727 8 VGA – 8 VIDEO. Extron 8-input Graphic Switcher. Extron/Kramer Smart cut VGA 2 PC inputs, 2 video inputs and 1 RGB input. Laptop computer. Desktop computer. Sony DSC-1024 Scanconverter. VGA Splitter. VGA Switcher.
Electro-medical rack for operating theatres
A-V assembly operator from 08.00 to 18.00, operator after 18.00, machine use.
Wireless Interactive Voting Systems
Sesamo®: tally system (optimised for E.C.M. events)
---